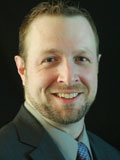 Tone Southerland
Standards and Interoperability Architect, Ready Computing
Involved with IHE for 7 years
Current PCC Planning Co-chair, Past PCC Technical co-chair, author of and contributor to several PCC profiles.
I am involved in IHE because:
it provides an opportunity to truly improve healthcare on an international scale by bringing together the right people, to solve the right problems in an open setting.  Healthcare is something that all of us are affected by at some point in our lives and being involved in IHE provides an opportunity to improve healthcare not only during our own lifetime, but for future generations as well.
the environment that IHE provides wherein interoperability can be developed, tested, and changed, and done so based on participation from real-world systems is the only way to effectively move past many of the challenges we face in healthcare IT today.  The feedback loop that IHE provides is key to its continuing success, providing the link between standards based profiling and real world solutions that ultimately improve patient care.