IHE International administers the IHE Conformity Assessment Scheme (CAS), which forms the basis for IHE Conformity Assessment Programs and any official certification of conformance to IHE Profiles associated with such testing programs.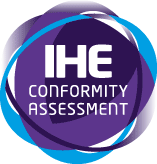 The CAS Scheme consists of two volumes:
IHE CAS-1 defines the necessary processes for establishing and managing an IHE Conformity Assessment Program and for accrediting and operating testing labs.
IHE CAS-2 defines the standardized test methods for assessing conformity to individual IHE Profiles.
On the basis of the Conformity Assessment Scheme, test laboratories are accredited in accordance with the ISO/IEC 17025 standard, General Requirements for Competence of Calibration and Testing Laboratories. Test reports produced in accordance with this standard are accepted worldwide. IHE International authorizes designated test laboratories accredited under this standard to assess the conformity of products with selected IHE profiles.
Test Reports
Test reports for products that have completed Conformity Assessment testing administered by IHE Authorized Testing Laboratories are available here.
Profiles currently available for testing under the IHE International Conformity Assessment program are:
Audit Trail and Node Authentication (ATNA)
Consistent Time (CT)
Cross-Community Access (XCA)
Cross-Community Access for Imaging (XCA-I)
Cross-Community Patient Discovery (XCPD)
Cross-Enterprise Document Sharing (XDS.b)
Cross-Enterprise Document Sharing for Imaging (XDS-I)
Cross-Enterprise User Assertion (XUA)
Device Enterprise Communication (DEC)
Laboratory Analytical Workflow (LAW)
Patient Administration Management (PAM),
Patient Demographics Query (PDQ),
Patient Demographics Query HL7 v3 (PDQV3),
Patient Identifier Cross-Referencing (PIX)
Patient Identifier Cross-Referencing HL7 v3 (PIXV3)
Point-of-Care Infusion Verification (PIV)
Brief descriptions of the interoperability benefits provided by each of these profiles are provided here.
Vendors interested in obtaining a test report attesting to the conformity of their products are invited to contact an IHE authorized accredited test laboratory.
Questions and feedback about the IHE Conformity Assessment program should be directed to casc-secretary@ihe.net.