The IHE Certified Professional Program (IHE-CPP) provides professional certification, supporting individuals in demonstrating their IHE-related knowledge.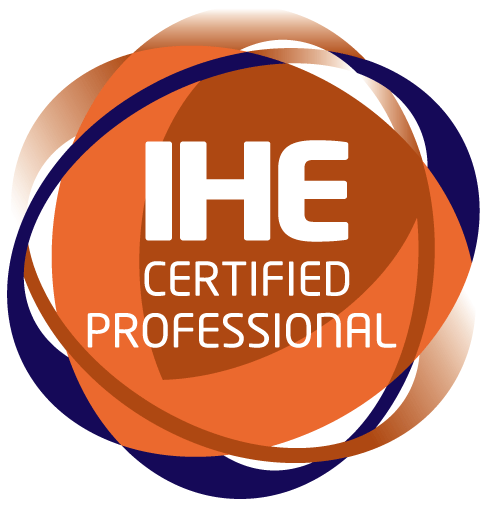 Overview
The IHE Certified Professional Program (IHE-CPP) was developed to offer individuals opportunities to prove their knowledge of IHE. Basic information about the organization of the IHE-CPP is provided below.
The IHE-CPP Scheme
The IHE-CPP Scheme is consistent with ISO/IEC 17024, "Conformity assessment – General Requirements for Bodies Operating Certification of Persons." The Scheme consists of the following elements:
Process definition

Guarantees quality, transparency, fairness and accountability of the exam operation and certification process

Exam related definitions

Syllabus: Business- and Learning outcomes and content of the exam
Exam questions and passing criteria
The IHE-CPP Scheme is under the governance of IHE International, primarily the IHE Education Committee which is responsible for reviewing the Scheme (including the syllabus and exam materials, the processes and certification mark) and approving it for use.
The Exam Subgroup is set-up by the Education Committee and is responsible for developing, collecting and maintaining exam questions.
Together with IHE Services, the Operator of the IHE-CPP is responsible for overseeing the organization of examinations by accredited exam providers and offered in multiple formats. It also ensures the operation of the certification process, including registration and invoicing of applicants, issuing certificates, accrediting Training Courses, etc.
The figure below shows the key roles in executing the IHE-CPP.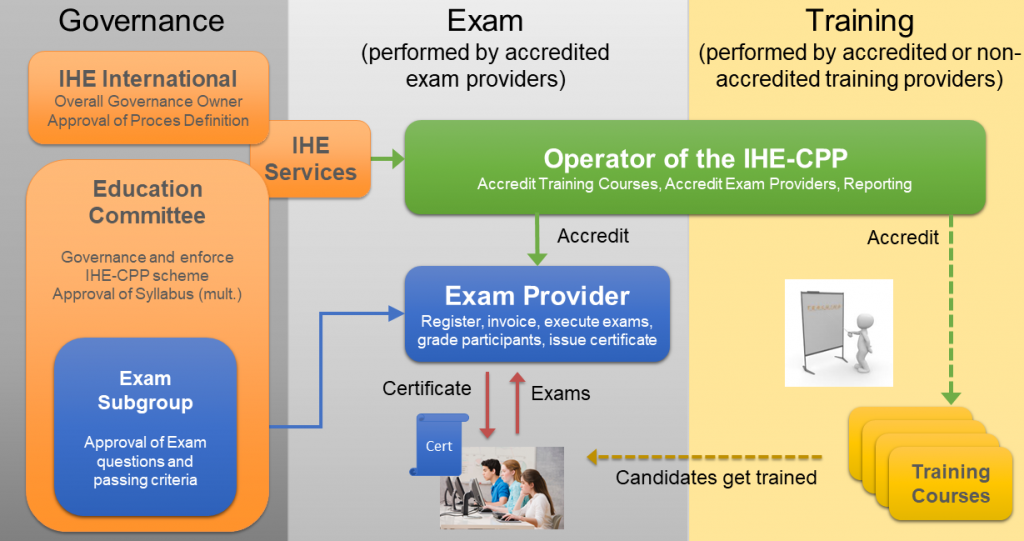 IHE-CPP process document
A detailed description of the IHE Certified Professional Program (IHE-CPP) scheme and process definitions is available in the document: IHE Certified Professional Program (IHE-CPP) Process Definition.
Certifications awarded
After successfully passing the examination, participants receive an IHE Certified Professional Certificate for the particular exam taken. For example, those successfully passing the first exam offered, the IHE Foundations Exam, will receive the IHE Certified Professional – IHE Foundations certificate.
This certificate will be issued by the Operator of the IHE-CPP on behalf of IHE International and is globally valid for a designated period that varies by exam. Before a credential expires, certificate-holders may take a re-certification exam to renew it to maintain the "certified since" status.
Rights associated with an "IHE Certified Professional" exam
Certification entitled the certified person to display the IHE-CPP logo with the textual expression of the certification achieved (e.g., "IHE Foundations") in association with the name of the certified person on:
personal business cards;
personal e-mail- or letters signatures;
organizational staff sections of

web sites;
marketing or sales material;
offers, answers to tenders;
presentations
The set of rights associated with an "IHE Certified Professional" certificate is described in the IHE-CPP processes document (see chapter "IHE-CPP process document").
Taking an exam
Exams are available worldwide and can be booked via our partner exam provider GASQ.
GASQ offers the following methods for taking an exam:

Exams via remote proctoring
Register for an Exam Today at GASQ
Click on "Book Remote Exam"
Price: 250 EUR
A proctor monitors the whole exam by webcam

Exam must be taken in an empty room on own personal computer

Applicant registers on website and schedules an appointment with a live "remote" proctor
Appointments are possible all day (24/7)
Payment is done online via credit-card
 On-site exams
Individual

Exam are offered by GASQ or in accredited exam centers
Done on-site at the center, personally proctored
Appointments can be individually scheduled
Payment: Via exam center

Group exams

Exams are offered in conjunction with a training and organized by the training provider
Exams are taken as a group (class-room setting)
Payment: Via training provider
Preparing for an exam
You can prepare for an exam either by self-study or with the help of courses provided by training providers. While attending a training course may improve your chance of success on an exam, training is not a prerequisite. The main source of information in preparing for an exam is the syllabus specific to that exam.
Accredited Training Courses and Providers
The following Training Courses have obtained the IHE-CPP Accreditation and are therefore recommended for preparing to an IHE-CPP exam:
Become an accredited training provider
Training providers interested in accrediting a Training Crouse for an IHE-CPP exam should contact the IHE secretary: secretary@ihe.net.
The requirements and process for accreditation of a Training Course is described in the IHE-CPP processes document (see chapter "IHE-CPP process document").
---
IHE Foundations Exam
Target group
The IHE Certified Professional – IHE Foundations Level Exam is tailored to the needs of professionals in health IT who work with products based on IHE profiles. This includes those employed by healthcare provider organizations or software development companies or working as consultants in systems integration. The certification is designed to reach a broad target group.
Goal
After passing the exam, participants will be able to apply the IHE methodology (ISO/TR 28380) for developing interoperability specifications for an existing healthcare environment. The course will enable participants to acquire the skills needed to identify and use the appropriate existing IHE profiles when faced with a healthcare interoperability project.
Learning Objectives
1. Orientation on the IHE organization
This module covers general information on Integrating the Healthcare Enterprise, its mission and vision, as well as its organizational structure. Furthermore, it demonstrates tasks and responsibilities of IHE internal units and the roles of external stakeholders. IHE specific principles of governance are also described in detail in the chapter.
2. IHE Methodology
This chapter aims to provide information of the main concepts and document structure of IHE Technical Frameworks, as well as the annual IHE review and development cycle used in each of the nine IHE clinical and operation domains.
3. Locating and navigating through IHE resources
IHE offers a large variety of technical documents to support planning and implementation of IT systems in healthcare, as well as a wealth of development and educational materials. This module targets the ability to find the needed information from the available array of options and use it accordingly.
4. IHE Example profiles, base standards, general healthcare IT knowledge
This chapter is designed to provide knowledge and comprehension of the standards for communication among IT systems using IHE profiles. Participants will learn the basics regarding the technical environment of selected IHE profiles and the technologies, standards, and security requirements used in them.
5. Accelerate Health Information Exchange deployment
In addition to technical standards and requirements, legal and organizational issues must be addressed during the integration of processes and IT systems. This module demonstrates the use of "IHE Interoperability Use Case Deployment Methodology" to support real world deployment.
Exam details
The format of the exam is multiple-choice. The exam duration is 60 minutes, the number of questions is 40. Additional time can be allowed for non-native English speakers.
Validity period of the certificate for this exam: 5 years.
Exam Syllabus
For the detailed Syllabus of the "IHE Foundations" exam please refer to the IHE Foundations Exam Syllabus document.
Accredited Training Courses for this exam
For a list of accredited Training Courses to this exam see chapter "Accredited Training Courses an Providers".