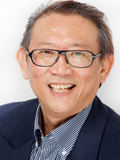 Michael Tan
Product Manager, Nictiz
Involved with IHE since 2012

I got involved in IHE Pharmacy because Nictiz, as standardization organization is sponsor of this group. I joined the pharmacy group to bridge the gap between HL7 and IHE. HL7 Pharmacy is very much message oriented while IHE Pharmacy is document based. One of the products we delivered is a document about Medication management concepts, which is also being submitted to ISO WG 6 as a technical report.
I am currently serving my second term as use co-chair for pharmacy. One of the events I organize each year is a joint meeting between ISO TC215 WG6, HL7 Pharmacy and IHE Pharmacy. The purpose of this meeting is to align the work of these 3 SDO's.
I am involved with IHE because:
I have worked in logistics before and if I compare that sector to Healthcare I see that there is still very much to win in concepts and efficiency in data handling. Institutions are often islands of data, but healthcare can no longer afford to work that way. Standardization is necessary for this purpose and that is why I work with SDO's like HL7, ISO and IHE.