OAK BROOK, IL, Dec.16, 2020 — Integrating the Healthcare Enterprise (IHE) International, an organization dedicated to the secure exchange of health information, has published for public comment a white paper titled, Enabling Document Sharing Health Information Exchange Using IHE Profiles.
In recent years, developments like cloud computing, mobile access to information and the use of artificial intelligence to improve care decisions have emphasized the need for seamless, interoperable health information sharing. IHE IT Infrastructure (ITI) Committee offers a collection of implementation guides called IHE profiles that support standards-based information sharing. This white paper is designed as a guide to leveraging these profiles to address the challenges of interoperability.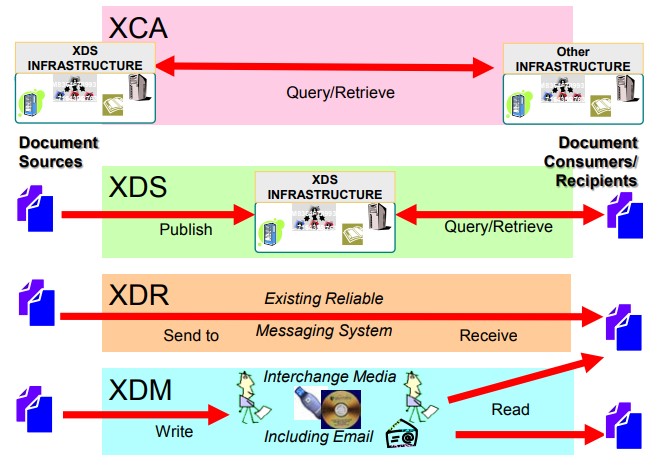 Effective interoperability among health information systems requires collaboration by government agencies, health systems, clinicians, and others. The white paper guides stakeholders through an open, standards-based approach to secure, efficient health information exchange.
"IHE provides detailed technical specifications to support health information exchange across the whole spectrum of care," said Dr. Michael McCoy, Co-chair of the IHE International Board. "This white paper provides a consolidated view of components that provide the foundation for a health information exchange."
Established IHE profiles like Cross-enterprise Document Sharing (XDS) and Cross-community Access (XCA) support exchange of health records in health systems around the world. A complimentary set of profiles built on the emerging HL7 Fast Healthcare Interoperability Resources (FHIR) standards, including the Mobile Access to Health Documents (MHD) and Mobile Health Document Sharing (MHDS) profiles extend this model of information exchange, embracing the data exchange methods that power mobile computing and the modern Internet.. The white paper shows how stakeholders can add a FHIR consumption API to existing infrastructure through the Mobile Cross-Enterprise Document Data Element Extraction (mXDE) profile.
The IT Infrastructure Technical Committee also published a revision to its Internet User Authorization (IUA) profile.
"The revision of IUA is driven by deployment experience, opening up new use cases and refining the use of the OAuth standard," said John Moehrke, Co-Chair of IT Infrastructure Technical Committee.
Comments on both the white paper and the IUA profile are requested by January 15.
About IHE International
IHE International is an initiative by healthcare professionals and industry to improve the way computer systems in healthcare share information with more than 175 member organizations worldwide. IHE promotes the coordinated use of established standards such as DICOM and HL7 to address specific clinical needs in support of optimal patient care. Systems developed in accordance with IHE communicate with one another better, are easier to implement, and enable care providers to use information more effectively.
Contacts: Christopher Carr, secretary@ihe.net
IHE ITI Technical Committee, iti@ihe.net