Written by Michael Nusbaum
Almost 20 years ago, I was wandering through the vendor exhibits in one of my very first HIMSS conferences… and ended up in a booth co-sponsored by IHE and HL7.  I was approached by none other than Joyce Sensmeier (VP of HIMSS), who personally guided me through a demo of interoperability between a couple of HIS systems of the day. I was so intrigued that I lingered for most of the day, and was shown many of the underpinnings of IHE "behind the curtains."  By the time I was kicked out of the booth at the day's end, I had joined IHE International and had signed up to participate in the IT Infrastructure domain!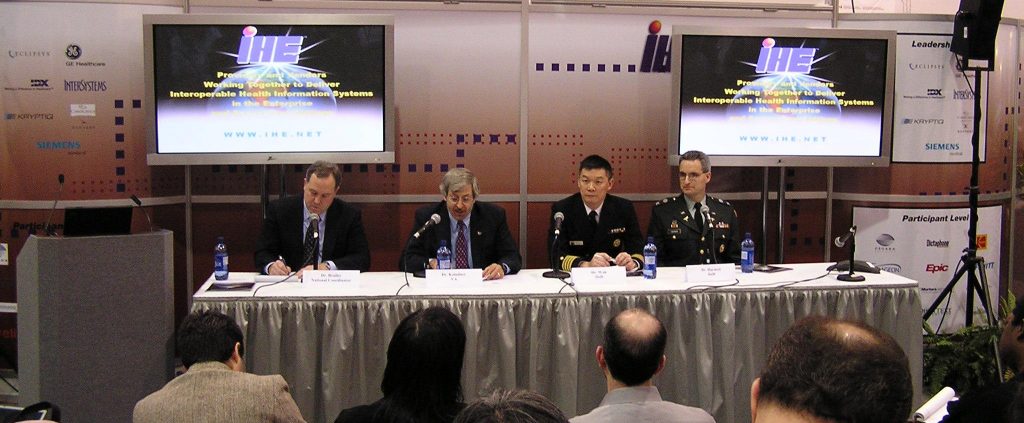 Almost twenty years later, I have chaired committees (IT Infrastructure Planning, Global Deployment Coordination Committee, Strategic Planning Task Force) and have been a proud member of the IHE International Board since its inception.  I also held the position of President of IHE Canada for a number of years.
For me, IHE has embodied the essence of interoperability, leveraging established standards (like HL7, DICOM, SNOMED, etc) but packaging these to specifically address interoperability use cases, providing implementation guidance that eases the task for digital health vendors and ensures an interoperability framework that has been thoroughly tested, certified and made consistently available in a large number of digital health products worldwide.  No other standards framework boasts this level of end-to-end approach, and the market has reacted extremely favourably over the past 2 decades by proliferating IHE content into the vast majority of the world's digital health implementations.
The future looks even more promising, as IHE adapts to new standards technologies that are emerging (FHIR, DICOMWeb, etc.), and shifts its focus to managing the vast information resources that are being collected at all points of care.  The objective, of course, is for better health, better healthcare, and a better healthcare system that supports all of us.
Learn more about IHE's 20 year history and current activity by subscribing to IHE News: